RUBBER RIG MAT RENTALS

TC INFRASTRUCTURE SERVICES IS PLEASED TO OFFER RUBBER RIG MATS FOR RENT
APPLICATIONS:
Rig mats, pipeline construction, muskeg, pipeline crossings, creek crossings, staging areas, camps, under drilling rigs, environmentally sensitive applications, emergency egress, accessing spills for environmental cleanup, transmission line construction, bridge decks & more.
Made using recycled tires, our mats are an environmentally sustainable product. They can be easily moved with standard lifting lugs that are installed into the mats, without creating any ground disturbance.
DELIVERY & INSTALLATION SERVICES:
TC is able to offer a variety of options in regards to transport and setup. Please call 780-668-0159 or email [email protected] for more information and to inquire about rental rates.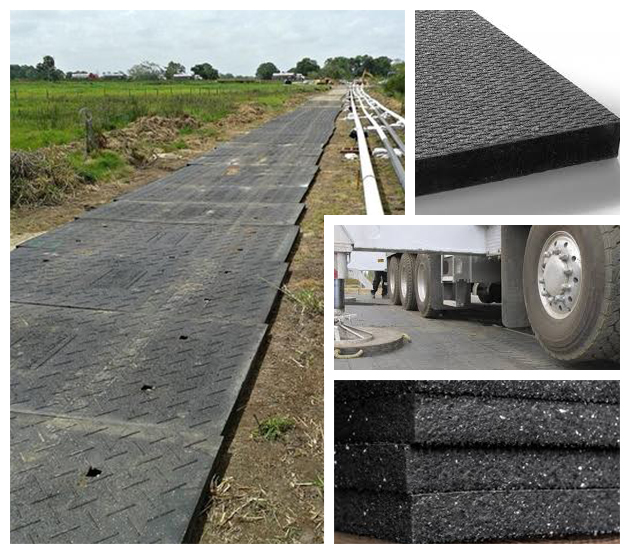 Flexibility. The mats contour to the topography of the subsurface and there is no need for a connection transition. Should the mat be accidentally dropped while handling, there are no concerns of damage.
Extremely durable and long lasting. Our mats will withstand tracked equipment and chained tires with very little, or no evidence of marking under normal use activities.
With the use of rubber rig matting, electrical conductive hazards are greatly reduced compared to electrical work being carried out on steel platforms.
Easy to wash off, therefore less labour intensive and cost saving due to low maintenance on-site.
Size: 14′ Long x 7.5′ Wide x 4.2″ Thick (3,000 lbs each)
SAFER. Rubber has excellent anti-slip properties compared to wood and steel, preventing slips and falls. Rubber also exhibits less snow and ice build­up than traditional wood & steel rig mats. Black rubber absorbs the suns radiation melting snow and ice up to -15°C. Equipment is less likely to slip off track, become damaged or caught in the terrain it is being protected from.
Rubber naturally absorbs shock, thus reducing fatigue on manpower and equipment. Should machinery or tools be dropped, it is less likely that the equipment would be damaged, saving expensive replacement costs.
CONTACT US
---
TC Infrastructure Services Ltd.
28 Strathmoor Way
Sherwood Park, Alberta T8H 2A5
Phone: 780-467-1367
Fax: 780-417-4780
Email: [email protected]
REQUEST A QUOTE
---
To get a project or job quote, please fill out our quick and easy quote request form and one of our managers will get in contact with you as soon as they are able to discuss it in more detail.  Please be as specific as you can in your description of the project. Thanks, we look forward to working with you!